High Profile Supporters
High-profile supporters from across the globe agree that our food system is broken; that cruel, crazy factory farming is sucking the life out of everything we hold dear. Together, we are fighting for high-quality, great-tasting food from farms that protect our planet and its inhabitants.
Joanna Lumley
"Compassion in World Farming has done an amazing job in achieving real changes for millions of farm animals. Huge challenges still face us – not least the global increase in meat consumption, which is driving the establishment of more factory farms. However, if we all get together and support Compassion's work, I believe we will be able to achieve internationally the kinds of changes we have seen here in the UK and in Europe."
Desmond Tutu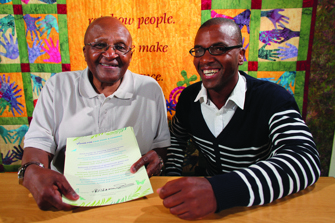 "I hope we will learn that we are related to animals and to nature, and if we destroy the balance we are ultimately going to suffer and pay the price. I hope we can make many people support Compassion in World Farming."
Hugh Fearnley-Whittingstall
"All over the world now, we've got booming populations with an increasing voracious appetite to eat meat. And it's too much meat – for human health; for the welfare of farm animals; for our environment to sustain. We need a massive rethink."